Description
About CBD Chamomile Blend
---
The harmonious blend of our CBD Chamomile Tea, created to include organic lemon balm & lavender, is truly divine. Lemon balm's increasing popularity is understandable once you realize its versatility and widespread use in everything from bee cultivation, to aromatherapy, to foods and beverages. Lavender also seems to be everywhere these days. While it can be a tad overpowering if used excessively, we include just the right amount which is approximately 10% of our thoughtful blend, which provides the absolute perfect pinch to accent, not dominate. Each individual component brings its own unique contribution, but together this unique blend provides a compelling reminder of the power of teamwork. Crafted so that no single herb or flower overpowers another, and fortified with our extremely effective pesticide-free, water-soluble CBD, this delightful cup of calm will fast become the tea you seek throughout the day, but especially when you're seeking a bit of relaxation and distance from life's stressors.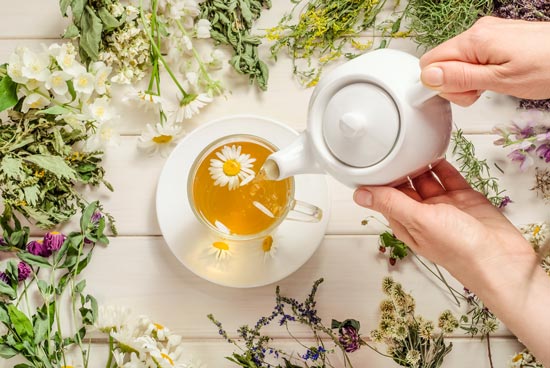 Flavor Profile of CBD Chamomile Blend
Buddha Teas carefully blends the chamomile, lemon balm, lavender, and CBD so you get only the finest and most appealing notes from each ingredient. This blend stands out particularly because of its light, floral notes, and its understated fruit tones. Super light and airy, you'll find zero bitterness in your cup of tea. Try adding some Buddha Teas Clover honey for just the right touch of sweetness.
Water-Soluble CBD vs. Oil Based CBD
When choosing a tea to drink that includes CBD, we have taken chemistry into consideration. Naturally, you don't want the exquisite experience of enjoying a cup of Buddha Teas turned into a science project, but here's the deal: not all CBD-infused teas are the same. CBD oil-based teas can't extract in hot water, so we found another solution by using nanosized particles of water-soluble CBD. Our innovative process ensures that the CBD in our tea bags ends up in your tea. With our water-soluble, bioavailable CBD you can feel confident that the CBD extracts into the hot tea, which allows your body full delivery, providing it with the most benefits possible.
**As a reminder to all of our loyal customers, our CBD Teas never contain THC.